Look for the Madison Institute of Medicine
The Madison Institute of Medicine, Inc. (MIM) is committed to conceptualizing, developing, and disseminating innovative approaches to the education of professionals and the general public about medical disorders and their treatment. An additional focus of MIM is clinical research as a vehicle to advance the frontiers of medicine and improve quality of life.
As the most comprehensive source of information in the world on lithium, bipolar disorder treatments, and obsessive compulsive disorders, the Madison Institute of Medicine's Information Centers specialize in providing information and services on these topics. The Centers assist health care professionals, patients, family members, and others by locating literature and answering questions related to specific needs. Experienced librarians will assist you by searching the comprehensive databases to locate the materials appropriate for you.
Launched in May , is an Internet resource made available by the Madison Institute of Medicine. Currently the Facts for Health web site addresses Alzheimer's disease, posttraumatic stress disorder, premenstrual dysphoric disorder and social anxiety disorder with sites on other disorders under development. This web site provides information on the disorders, helps you determine if you are suffering from the disorders (there are online screening tests you can take), leads you to additional resources and assists you in locating clinicians who can help you.
The Madison Institute of Medicine hosts semiannual Continuing Medical Education (CME) conferences dealing with mental health and health care issues. These CME programs are endorsed and certified by the University of Wisconsin School of Medicine and Public Health.
As a non-profit 501(c)3 organization, the Madison Institute of Medicine is supported by tax-deductible donations from individuals and corporations, research grants, the sale of educational materials, and the proceeds from continuing medical education conferences.

Look for The Madison Institute of Medicine at:
CME Conferences: The Madison Institute of Medicine hosts two Continuing Medical Education courses each year in Madison, WI.
The Madison Institute of Medicine contributes a column containing up-to-date information and articles related to obsessive compulsive disorder in every issue of the Obsessive Compulsive Foundation's monthly newsletter.
Conferences:
APA Annual Meeting May 16-21, in San Francisco
OC Foundation Annual Conference August

Information Centers For Lithium, Bipolar Disorders Treatment & Obsessive Compulsive Disorder
At the core of MIM's educational efforts are the Information Centers: The Lithium Information Center (LIC) , founded, the Obsessive Compulsive Information Center (OCIC) , founded , and the Bipolar Disorders Treatment Information Center (BDTIC) , founded. The Lithium and Obsessive Compulsive Information Centers were formed at the University of Wisconsin - Madison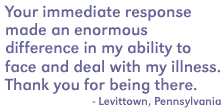 and were moved to the Dean Foundation for Health, Research, and Education . They were then transferred to the new Madison Institute of Medicine . The majority of the staff has remained the same, and MIM continues to offer the largest number of resources on lithium and obsessive compulsive disorders in the world.
More information about the Information Centers